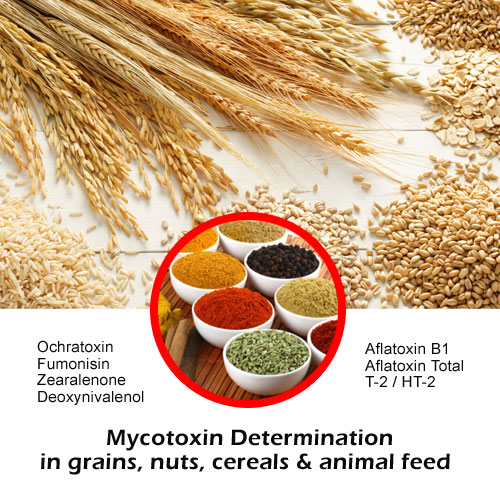 Mycotoxins
Mycotoxins are found in almost all kinds of animal feeds and foods, such as cereals, wheat bran, pasta, pea shells and corn kernels, milk, and the like. Molds like to live in warm and humid environments, and are capable of growing on or inside food before and after harvesting . Because most of them are chemically stable, they are difficult to remove during food processing. The most common mycotoxins that are harmful to human and livestock health are aflatoxins, ochratoxin A, fumonisin, zearalenone, deoxynivalenol and so on. Although goverment have established international standards and practices for mycotoxin exposure in food, mycotoxins contamination is still a worldwide food safety issue of concern.
KEY FACTS
1. Some natural toxins can be formed in food as defense mechanisms of plants, through their infestation with toxin-producing mould, or through ingestion by animals of toxin-producing microorganisms.
2. Natural toxins can cause a variety of adverse health effects and pose a serious health threat to both humans and livestock. Some of these toxins are extremely potent.
3. Adverse health effects can be acute poisoning ranging from allergic reactions to severe stomachache and diarrhoea, and even death.
4. Long-term health consequences include effects on the immune, reproductive or nervous systems, and also cancer.
ELISA Kits for the quantitative and qualitative determination of Aflatoxins and Mycotoxins in food, feed and beverage samples
ADVANTAGES:
1· Wide range of quantitative ELISA kits, with excellent sensitivity and specificity
2· Quick extraction times and swift test protocols
3· Protocols for quantitative, semi-quantitative and qualitative tests
4· Ready-to-use reagents
5· Suitable to different kinds of grains, flours, food, feed, dairy, beverage and even peculiar samples
6· Availability of kits for "difficult" matrices and for specific kinds of samples
7· Individually breakable wells
8· Long shelf-life